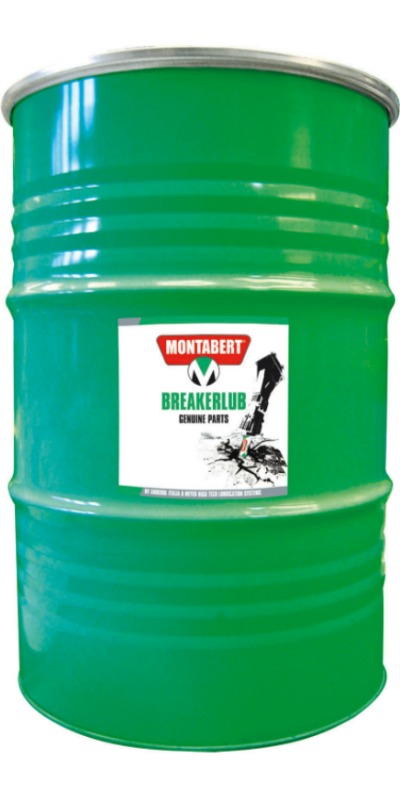 Greasing and greasing components
BreakerLub
Total protection from friction, wear, and scuffing, thanks to exceptional film strength and metal affinity
Full protection from wear and seizing
Thermal stress reduction, thanks to its improved heat transfer capacity
Strong barrier against the entry of abrasive or aggressive polluting element
Optimizes lubrication efficiency and significantly reduces lubricant's over-consumption and relevant costs
Montabert BreakerLub, a unique lubricant, is an exclusive and original part of your breaker–as important as all the other high-tech components on your system.
Montabert BreakerLub is the result of intense co-operation between the Engineering departments of Montabert and Anderol Italia-Meyer high-tech Lubrication Systems - two well-known worldwide specialists in advanced technology.
BreakerLub is totally different from any other breaker grease or oil:
It is based on synthetic components, specially selected for their "polar" attraction characteristics which enhances lubricity, metal affinity and lubricating film strength, even in the most adverse operating conditions.
The specific additive package and the solid lubricants are carefully selected to obtain top protection of all vital parts.
Its exclusive texture and consistency have been defined to fully exploit the technology of the Montabert-designed lubrication system.
Its physical characteristics perfectly match the Montabert lubricant supply systems (on-board Greasing Systems and Beka).
Packaging
Drum
Pails
Cartridges

180 kg
x1

24 kg
x1

5 kg
x1


400 cc
x20

450 cc
x48
Greasing
On-board greasing station
Drum - 180 kg
Pails - 24 kg
Pails - 5 kg

Beka
Cartridges - 400 cc
Manual
Cartridges - 450 cc